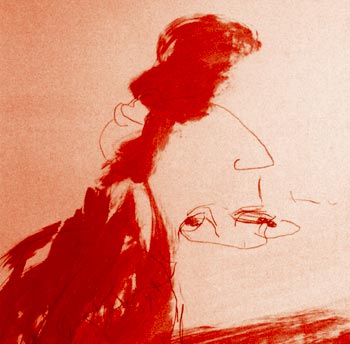 Hubweber / Zoubek – Nobody's Matter But Our Own


Go to the mailorder page.


Listen to a 45 second soundfile of this release (~95kB).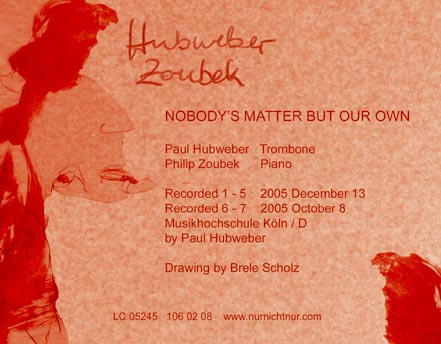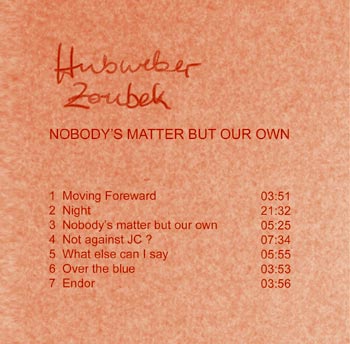 Subject: Reviews of your work online
Just a note to let you know that the music you kindly sent us for consideration has duly been considered and subsequently reviewed for www.paristransatlantic.com/ – the review's now up online. Please address any correspondence to our contributing journalists including myself to me directly at the email address PTEditor. Many thanks, and a happy, healthy and musical 2007 to you -
all the best
Dan
The album title might seem to indicate that both the artists – trombonist Hubweber and pianist Zoubek – and the perennially wonderful Nurnichtnur label don't give a monkey's about world fame (or even a Wire review, haha), which is a shame considering this is one of the best improv albums to come my way for a long time. No frills, no bullshit, just trombone and piano (lightly prepared) in the kind of improvisation that has, unfortunately, dropped off the radar as far as the so-called hip zines are concerned (i.e. no drones, no laptops, no noise). To quote that memorable line of Fred Frith's, it's as much about virtuoso listening as virtuoso performing, though it's clear from this – and from his earlier Emanem outing Papajo with Messrs Edwards and Lovens – that Hubweber can blow the trombone inside out. Zoubek's no slouch as a pianist and composer either, from what little I've been able to gather from German websites, and he's got an acute ear for pitch and a sense of timing that would make Misha Mengelberg chuckle. That said, this is no whacked-out platter of New Dutch amuse-gueules: it's thoughtful, pitch-sensitive and accomplished music and anyone interested in today's improvised music should check it out.
Dan Warburton at Paris Transatlantic 1-07
Sent: Thursday, November 16, 2006 12:20 PM
Subject: jmvs playlist twelve gems
Hello every body and soul
hier JMVS improvised music playlist late 2006 ..........
re decrease sale cd's alternative improvised expermtl free jazz help SOS SOS
please help 1 cut the television 2 save money from that 3 buy I.M. cd's 4 learn to listen 5 all the music go in your ears and all the money go to the musicians 6 boycott large shops and corporate music industry 7 boycott idiot magazines & save money ...
1/ Nobody's Matter But Our Own : Philip Zoubek piano & Paul Hubweber trombone 2005 Nurnichtnur
the best duo cd of improvised music since more than fifteen years (signé JMVS)

Hello Paul
this is the definitive text of my review . I notice to the readers that they have to listen four or five times a a day.
This is the sort of stuff you can listen many hours of the day .... there are very few compact recordings of improvised music like this one.
Which is not the question of good or best or better it is the fact that it speaks. I know a lot of famous people in the scene unable to make such statements on recordings. There are always something which is lacking. That's not easy.
Many masterpieces are to be listened once. A good part of good improvised musics have no good effect through recordings.
Derek did nice duo lp's many years ago and Brötzm/ VH / B and Paul's Gentle Harm & Evan's first solo.
Nobody's Matter But Our Own.
Si vous avez été conquis par Paul Rutherford et Fred Van Hove, ce disque est pour vous.

J'ai eu l'occasion d'écouter deux concerts de leur duo, il y a très longtemps et je regrette fort l'absence de témoignage enregistré de leur collaboration. L'album de MLA Blek en quartet (SAJ 1981) est introuvable. D'ailleurs, à l'exception des sessions Vogel publiées par John Corbett sur UMS / Atavistic, il n'y a aucun témoignage disponible de Fred Van Hove entre 1973 avec Brötzmann et ses cédés des années '90 chez FMP, Wimpro et Potlatch (Organo Pleno, 't Nonet, Lust, Flux) et c'est bien dommage.
Alors, mettez la main sur ce Nobody's Matter But Our Own de Philip Zoubek et Paul Hubweber. Leur musique est aussi excellente et inspirée que celle de nos deux pionniers. Si Hubweber évoque Rutherford, c'est aussi parce qu'on entend chez lui autant de sincérité et de subtilité que de poésie et d'humour tendre. Et sans esbrouffe ! Bien sûr, le tromboniste de Cologne ne s'en cache pas, Paul Rutherford est son modèle. Il suffit d'entendre son magnifique Tromboneos pour le même label Nurnichtnur (2002) pour s'en convaincre. Ce solo de Hubweber s'écoute avec autant de plaisir que « The Gentle Harm of the Bourgeoisie» l'album solo de son aîné (1974 cd Emanem 4009). Cet enregistrement de Paul Rutherford a été décrit par Derek Bailey comme « The genuine article » de la musique improvisée libre en solo.
Dans ce très beau duo avec le pianiste Philip Zoubek, le tromboniste met en valeur les inventions du pianiste, un des meilleurs dans ce genre de musique, « improvisée libre ». « Meilleur » est une affaire de profondeur d'inspiration et de faire véritablement sonner l'instrument àtravers la technique qu'il s'est choisie. Zoubek atteint ici le vécu et l'intensité d'un Van Hove avec des moyens différents. Il prépare soigneusement son piano et son jeu avec les cordes offre quelques similitudes avec la démarche de Denman Maroney (cfr Hyperpiano /Monsey Music, un enregistrement solo de 1998 autoproduit et hautement recommandable). Mais l'affect et les sons de Zoubek agissent dans un autre registre sonore et émotionnel que celui du pianiste de New-York. Les sons des cordes « stoppées » sont
superbement intégrées aux notes des cordes vibrantes avec une précision rythmique et harmonique confondantes et des doigtés singuliers. Sans effets clinquants et avec des sons de harpe folle, il laisse le champ/ chant libre aux vents de la coulisse durant les 3'51'' de Moving Foreward, qui inaugure ce cd. Leur musique s'épanche sans précipitation dans Night (21'32''). On se souvient de la formule de Paul Rutherford « When I Say Slowly I Mean As Soon As Possible », le titre du disque de son duo avec Paul Lovens, alors jeune et impatient (Po Torch/ PTR JWD 003). Dans ce même état d'esprit, les sons suspendus et flottants de Zoubek et Hubweber captivent l'attention dans cette très longue plage. C'est véritablement une belle performance. Hubweber a hérité de Rutherford un sens harmonique très sûr. Il confère ainsi une consistante musicalité à toutes les turbulences de sa colonne d'air dans les tuyaux du trombone. Et quand, passée la dix- huitième minute, les échanges s'agitent et que le pianiste fait songer à l'éternel Thelonious, on est vite surpris d'entendre les vingt et une minutes de Night s'achever. Le morceau qui donne son titre à l'album, Nobody's Matter But Own, prolonge Night avec intelligence et un rythme enlevé. Les quatre plages suivantes (entre 7 et 4 minutes) offrent d'autres perspectives bien rendues par la prise de sons comme ces très beaux « intérieurs » de piano de Not Against JC et de What Else Can I Say. C'est d'ailleurs le cas de le dire. C'est pourquoi je résume : c'est très sincèrement de l'improvisation libre dans ce qu'elle a de meilleur. Un état de grâce à recommander absolument. Après le fameux et très interjectif Frequency of Use de Stefan Keune et John Russell, l'intelligent Looking de Xu Feng Xia et de Uwe Oberg et les boîtiers métalliques de la série Berlston et avec Tromboneos et Nobody's Matter, Nurnichtnur s'affirme de plus en plus comme un label à suivre. On peut écouter Nobody's Matter vingt fois par semaine sans se lasser un instant que ce soit le matin, le midi ou le soir. J'adore.
Jean Michel Van Schouwburg
Hubweber owns one of the most distinguishable voices on a very difficult instrument - the trombone - and is probably my personal favorite player in that sense, while Zoubek is an excellent pianist, partially modeled after Tippett-esque canons, whose beautiful playing was not familiar to these ears until this CD, which is one of the best improvisation albums of the last five years. Over the course of seven tracks, Hubweber pirouettes and splashes nuances of total unpredictability which, absurdly enough, sound as controlled as the temperament of a cool-headed jazzbo; yet he remains a fine raconteur of protuberant dreams, his instrumental knowledge enough to jettison every hint of confrontational attitude while privileging quietness and maturity, even when strange occurrences make the music a little punch-drunk. Zoubek's fingers flutter with determination, focus and inventive questioning, instantly generating anti-pattern electricity during peripheral conversations about non-existent tonalities. When he clatters and zings the prepared strings of his instrument, a typical perfume is spread around, soon replaced by gossamer piano phonetics based on sparse notes and meagre contrapuntal discolourments. Classy substance, highly recommended.
Massimo Ricci at Touching Extremes